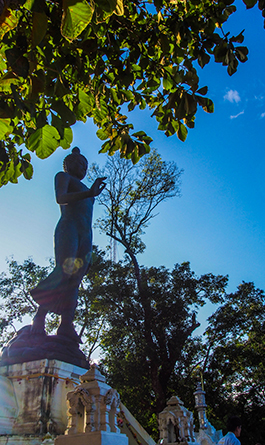 Welcome to Chiang Rai : Southeast Asia's fabled Golden Triangle lies on the edge of an encroaching modern world. Thailand's highways and air systems will whisk you in hours to places it once took weeks to reach on horseback and elephant. However, the mysterious essence of the Golden Triangle remains undisturbed.
Today you can visit the silent, brooding ruins of Chiang Saen , once home to King Mengrai who united northern Thailand into the Kingdom of Lanna. Follow the opium trail as it winds down the spine of the Triangle to the West. Visit an anthropologist's paradise in the thriving villages of the Karen, Hmong, Yao Lahu, Akha, Lisu, Shan and Lawa tribes people. Many of these villages can be reached only on elephant or mule back, affording spectacular panoramas of the Golden Triangle.

Golden Triangle Tour : We specialize in customized tours for the discriminating traveler and discerning professional, providing historical and cultural insights so that your tour may be a true learning experience. Our guide were born and raised in the area and under the supervision of long-term residents of northern Thailand. We provide something for everyone from budget touring to deluxe safaris. Safety is also of paramount concern to us. Your needs will receive expert attention, ensuring an enjoyable sojourn to the Golden Triangle.